Are you starting to plan for the Fiesta in San Antonio, Texas?  Or do you have a Fiesta Celebration somewhere else?
Let us work with you to create the finest Fiesta Medal or Fiesta Pin for the San Antonio Fiesta or any other Fiesta Celebration!  Our onsite graphic designers will work with you to finalize your Custom Fiesta Medal or Custom Fiesta Pin design.  We will then place your custom design into production and produce a Medal or Pin fit for the KING OF THE FIESTA!  These are a few samples of what The Pin People created for the Royal Family in Fiesta 2006!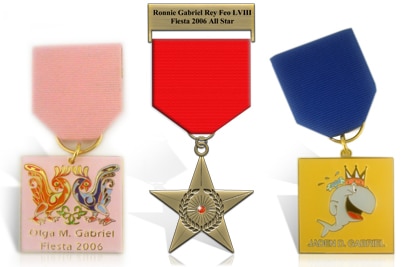 Fiesta Medal and Pin Ordering Process
Contact us with your ideas and we make creating your own Fiesta Medal Pin easy as 1-2-3.
Submit your Fiesta Medal Pin idea to us.
We will create your Fiesta Medal Pin design and send you artwork for your approval.
Receive your Fiesta Medal Pins and hand them out at the Fiesta!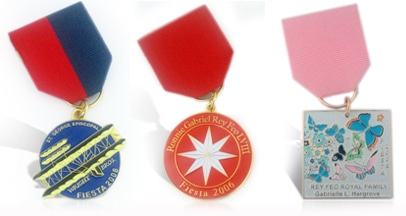 If you are looking for a quote for your custom Fiesta pins, please feel free to contact us.