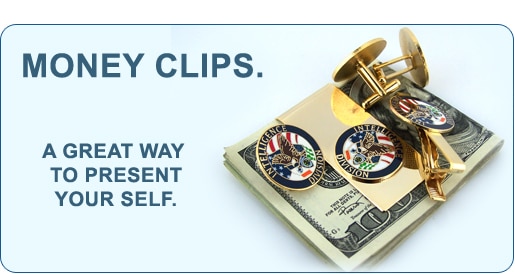 If you are looking for custom money clips then The Pin People can assist you. We can design and create the perfect custom money clip from your design.  The Pin People are one of the largest designers, manufacturers and suppliers of lapel pins in the United States.  Located in New York, The Pin People continues to be able to provide superior quality and cutting edge perfection to our products.  Our products along with excellent customer service, makes The Pin People the right choice for your next project.
Custom Money Clips Have Two Basic Components
Adornment – This is the flat surface that is attached to either a lapel pin, cufflink, or money clip.
Attachment – This is the functioning piece that the adornment is attached to, such as a lapel pin post, money clip, cufflink attachment, tie clip, etc.
Money Clip Options
The standard attachments can be created in silver or gold metal coloring finishes and also come in various widths.  However, we now have an option for the money clip attachment to be produced in any PMS color.  Most manufacturers do not offer this option, but we are proud to be one of the only companies that can offer this to their customers.
Although we have a minimum target order of 100 pieces, but there are additional options available if you need is less than 100 money clips.  If you need less than 100, we can still offer that option.
We do have several different styles and size custom money clip attachments available.  Our "PIN"gineers will work with you to create the perfect effect for your design.  With the use of think or thick money clips, your design can truly shine through and either have a "hang over" logo effect or use a traditional logo mounted on the custom money clip type of design.
Mix and Match Program
Custom money clips are part of the mix and match program.  Because we create the adornment and then attach it to the money clip attachment, we can create other items as well in order to meet the 100 piece minimum threshold.  We would simply mount the adornment on other products that we offer. For instance, with the adornment we can create 20 money clips, 20 sets of custom cufflinks (40 pieces), 20 lapel pins, and 20 tie clips would meet the 100 piece minimum order threshold.  All products, except key chains are available in the mix and match program.
Ordering Custom Money Clips
Simply submit your design through our quote form and we will start the process, right away.
Please feel free to contact us with any questions that you may have about our any of our products or our mix and match program.  You can reach us by email, contact form, or call us 888-309-PINS.
If you are nervous about designing the perfect perfect custom money clips, our "PIN"gineers are here to help you every step of the way to ensure that your final product is perfect!