Custom Citation Bars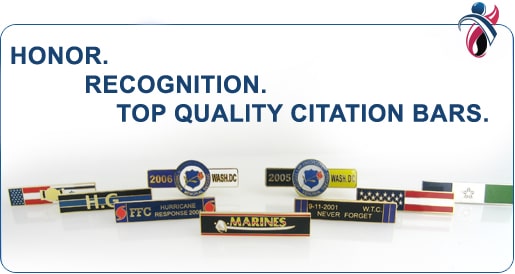 SERVICE BARS – CITATION BARS – FLAG BARS
Whether it is a service bar, citation bar, flag bar or award bar, we can create any custom bar to your specifications. We stock many of the different service bars and citation bars you'll find on the market today.  Whether it is years of service bar, flag bars, or a commemorative bar, The Pin People have the experience and expertise to create for you or your department the perfect piece.


Our service bars and citations bars are durable and can be worn by police officers, firefighters, EMS personnel and security officers during normal or ceremonial duty. Our stock citation bars were actually designed by law enforcement personnel that cooperatively with our staff.
Citation bars can be broken down into several different categories.
Citation Bars
Service Bars
Indicator Bars
Memorial Bars
CITATION BARS
History of Citation Bars:
The history of citation bars dates back to military history, specifically the time of the American Civil war (1861-1865). The award medals were issued by commanders and were awarded on an unofficial basis. The Spanish-American war (1898) is where first recognized medals or military decoration were introduced. A military decoration or military award is a decoration given to military personnel or units for heroism in battle or distinguished service. These citations were to be worn on a military uniform.
A military decoration was comprised of a medal and a ribbon. The first awards were comprised of a ribbon that would be worn around the neck; later, though, the back of the ribbon came equipped with a metal fastener, very similar to a safety pin that would be pinned to the uniform. The medal was a molded piece of medal of a specific design with a ribbon attached to the top that could be pinned to a uniform.
Medals would be worn on dress uniforms. Later the military began using ribbons that would symbolize the medal. The citation ribbon was cloth material either in a solid color or multiple colors to differentiate the type of award that was being displayed and represented the medal that was awarded. They were and are presently made out of a fabric material and backed to a metal support. These ribbons were worn over the right breast pocket on a uniform shirt. They were smaller and would be worn on garrison uniforms to outwardly display a service member's accomplishments. These ribbon citation bars could be worn in a horizontal citation bar rack that could have many rows, to hold many different awards.
Law Enforcement adopted this concept of smaller medals that were more manageable for everyday wear. Some departments still wear the commendations over the right breast, very much like the military. Other departments decided to have all of the awards on the left breast, in a leather citation bar holder. In the leather citation bar holder, the badge would be on the bottom, and the award would be worn above the badge. The highest award would be placed at the top of the holder and lesser citations would be below it, in order of importance.
Still to this day, many departments have their own system for the citation bars. There has been no standardization for the color bars and size
SERVICE BARS
Service Bars are the same specifications as the citation bars however the service bar usually refers to the years of service, or participation in a specific event.
INDICATOR BARS
Indicator bars are the same in specifications to citation bars and service bars, however they indicate to others individual achievements. For instance, a department may have a black bar to indicate the individual is a member of the SWAT team; likewise, a bar with a bicycle graphic may indicate that that officer is part of the bicycle unit. Other common bars include the Field Training Officer (FTO) bar, which signifies that the officer wearing the bar is a training instructor responsible for training new officers; or the Police Instructor bar, which signifies that the officer wearing the bar is a police academy instructor.
We have created thousands of custom service and citation bars for hundreds of agencies across the country. Above is a small sample of some of our work.  We do stock of certain commonly found bars. Please contact us for a quote for custom bars or if purchasing a large volume of stock bars.

Citation Bar and Service Bar – Tie Clip Attachment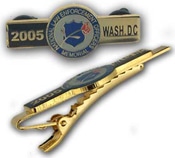 We can mount your service and citation bar on a tie clip for a unique effect.  This is one example of the finished product, Click Here To Contact Us About Stock and Custom Citation Bars