Awareness Ribbon Pins

Awareness Ribbon Pins

Awareness ribbon pins have long served as a way for people to make a statement of support for a cause or issue. We create thousands of awareness ribbon pins annually, and can   easily customize pins to fit your needs to help you represent your cause, business, or organization. Our awareness ribbon pins are tailor-made to your specifications, which means that you pick the color schemes, design, and layout. We use the  Pantone Matching System, which means that identifying and matching the exact colors you'd like to use is easier than ever. And there are over a thousand colors available to choose from. We'll then personalize your message by adding any text you'd like to the pin. Whether it be for a well known cause or a local one, such as a memorial or fundraiser, awareness ribbon pins make a statement and an impact.
Some of the more notable causes we've created pins for include AIDS, cancer, and autism awareness. Our trained staff will work with you to make custom ribbon pins that will be worn for years to come. Please try our Online Ribbon Designer.
CLICK HERE FOR A CHART OF COLORS FOR AWARENESS RIBBON PINS
CLICK HERE FOR A QUOTE FOR PINS
____________________________________________________________
TRY OUR ONLINE AWARENESS RIBBON PINS DESIGNER!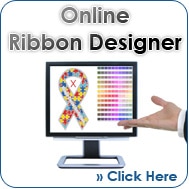 With our Online Awareness Ribbon Designer you can create a custom designed Awareness Ribbon personalized for your cause.  If you would like to add text, change color, choose your font, font size, metal color, awareness ribbon size and order it right online.  This Online Awareness Ribbon Designer allows you to see your awareness ribbon and approve it before  it ever sees our graphic artists, so it is exactly what you need.  If you would like to something more custom with your awareness ribbon, we can help you with that as well.  Just request a custom lapel pin and specify your needs, and we can assist you create the perfect awareness ribbon pins for your cause.
____________________________________________________________